In the Community
Known affectionately as 'Miss Denise' and 'Miss Chandani', both teachers have taught more than 200 students combined over their 10 years at the school, an achievement we are proud to acknowledge.
In what was an exciting and memorable occasion, the children from our morning and afternoon classes joined together to welcome Mr. Alexander with a short performance before official speeches and presentations. In his address to the guests on the day, Mr. Alexander said the students of the school were lucky to have such a great start in life.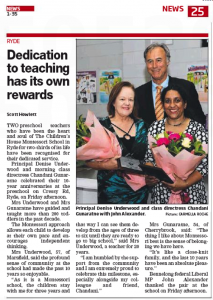 The dedication and enthusiasm displayed by Denise and Chandani is testament to the importance of community to quality education and we are extremely grateful to them for all their hard work and care over the years.
The Children's House Montessori School has provided early childhood education in the local Ryde area for more than 15 years, two thirds of which Miss Denise and Miss Chandani have contributed towards.
The celebrations come at an important time for our school as we make a move to secure our contribution and involvement in the Ryde community by discussing the long-term lease renewal of our Cressy Road premises as part of the council's community building improvement program.
Congratulations and thank you Denise and Chandani! May our children benefit from many more years of your wisdom and guidance.